Our responsibility strategy
focuses on three areas:
We have established global responsibility goals for 2025 and are committed to providing
transparent updates on our progress. Read more in our 2021 Responsibility Report.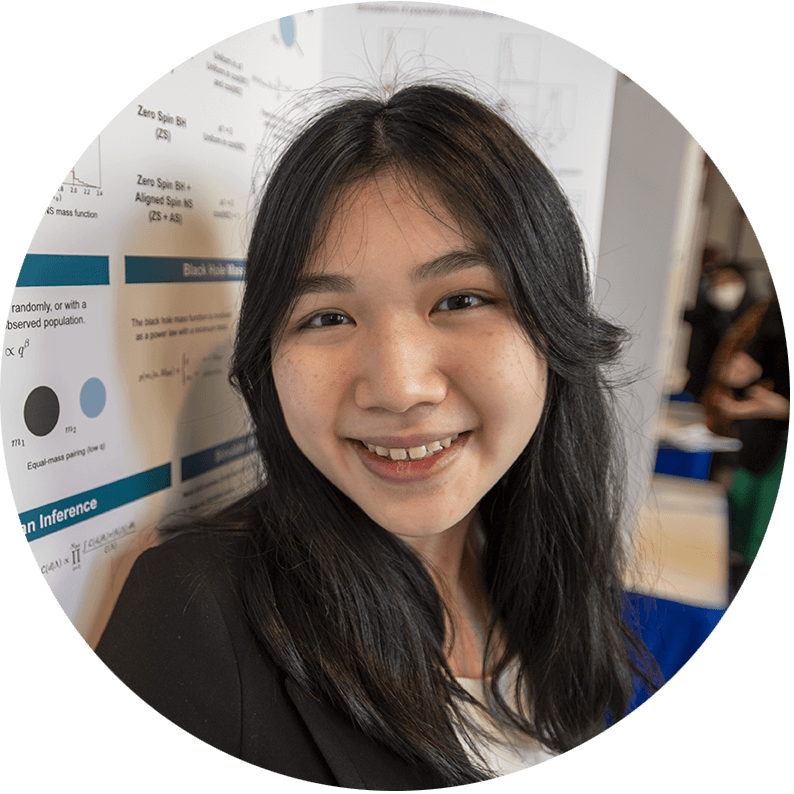 CASE STUDY
Investing in the next generation of scientists
We apply our long-term approach to inspiring and developing the next generation of scientific innovators. We believe that scientists are heroes and hold the potential to solve our greatest challenges, and that has never been more evident than in our own development of a treatment for COVID-19. In order to continue building that pipeline of talent, Regeneron seeks to foster the next generation of scientific innovators by collaborating with the best STEM education partners on local, national and international levels. More than 90 percent of our corporate philanthropic investments supported STEM education outreach and equity initiatives and research competitions, like Regeneron Science Talent Search and Regeneron International Science and Engineering Fair. In 2021, we adapted our programs to meet the needs of students, teachers and parents by providing virtual learning opportunities and competitions, reaching budding science enthusiasts in new ways.
THE REGENERON WAY
Through a year of immense growth, our Regeneron team worked together to maintain our culture of scientific curiosity. By the end of 2021, we had 10,368 full-time employees, with nearly 3,300 colleagues joining us during the pandemic (March 16, 2020 through December 31, 2021). During 2021, despite turnover in the industry and beyond, we maintained a 92 percent retention rate. With nearly 1,200 employees with an advanced degree of PhD or MD, we continue to invest in building a strong team with deep subject matter expertise and a commitment to collaboration and innovation. We once again ranked among the top biopharma employers by Science magazine and made Fast Company's Best Workplaces for Innovators list for the third year in a row.
With a keen awareness that mental health has been particularly challenging during the pandemic, we put renewed effort into supporting our Employee Interest Groups (EIGs) and Employee Resource Groups (ERGs), including the Asian Pacific Islander ERG, Juntos (Hispanic and Latin) ERG, LGBTQ+ ERG, RISE (Resilience IS Essential) ERG, South Asian+ ERG, WISER (Women in Science and Engineering) ERG and the Black ERG.
These 5 pillars represent the values and behaviors that define who we are, what we stand for and how we work together.
lead with
science
take on
big ideas
make it
happen
be great
together
do what's
right
Want to join our team?
We are eager to have more passionate, science-driven individuals join our team. Explore
opportunities with Regeneron around the globe.
explore careers
Diversity, Equity and Inclusion (DEI)
At Regeneron, we are deeply committed to ensuring all people are included and diversity is celebrated. Diversity, Equity and Inclusion (DEI) is not just the right thing to do, it's at the heart of our ability to innovate and bring important new medicines to patients who need them. We continue to strive to improve our DEI efforts through the lens of our DEI strategic framework:
Across the Regeneron team, we continue mandate leadership training and more development and mentoring opportunities for underrepresented groups. We support employee-led cross-functional groups who connect around a common passion to build a culture of inclusion, collaborate to support under-served science and global communities and provide inclusive professional development and leadership opportunities. Our ERGs provide professional development opportunities with leadership roles and support from members of Senior Leadership as well as their Executive Sponsors. We also provide other opportunities for colleagues to get involved, including participating in Empathy Circles to be an ally or discussions on important DEI topics during Inclusion Café.
Beyond the Regeneron walls, we support equity programs to enable more students to access inspiring STEM education opportunities, such as through our STEM Action Grants and advocate program with the Society for Science, as well as our work with local organizations such as the Yonkers Partners in Education after-school research program.