Rallying Against
Covid19
Regeneron is applying nearly 35 years of scientific
and technology expertise to help combat the COVID-19
pandemic with unique speed and capabilities.
Our COVID-19 progress
in 2021
We are proud that our investigational REGEN-COV® (casirivimab and imdevimab) therapy helped millions of people over the past two years. Unfortunately, lab tests confirmed in late 2021 that our original cocktail was not effective against Omicron (B.1.1.529).
Viruses, by their nature, mutate over time leading to variant forms. Knowing this, we've continued to leverage our VelocImmune® and related VelociSuite® technologies to advance our COVID-19 research and development program. We have been evaluating hundreds of additional investigational potent,
neutralizing antibodies in our labs that might be useful against future variants. We are progressing several candidates that are active against currently circulating variants of concern, and have already initiated a first-in-human clinical trial of one of these investigational antibodies. We believe there remains a significant need for monoclonal antibodies.
Throughout the pandemic, as we do with other therapeutic areas, we have sought out collaborations for maximum impact. For our COVID-19 program, we collaborate with Roche, who is primarily responsible for development and distribution of our antibody cocktail outside of the U.S. In 2020, we received funding to support some of the manufacturing and distributions costs from the Biomedical Advanced Research and Development Authority (BARDA), part of the Office of the Assistant Secretary for Preparedness and Response at the U.S. Department of Health and Human Services, and the Department of Defense as part of Operation Warp Speed.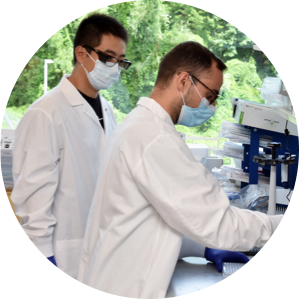 Supporting our people – a critical priority
COVID-19 has continued to impact our Regeneron colleagues. As the pandemic stretches into its third year, we strive to support our employees, their families and our communities. In addition to ensuring employees on-site have ongoing access to appropriate safety measures (including surgical and KN95 masks, home-delivery of PCR testing and on-site vaccine and booster clinics), we also provided employees working from home with equipment to get their work done and virtual opportunities to connect with others. The COVID-19 Response Leadership Team – comprised of leaders from across the company and informed by public and environmental health specialists – evaluated the changing landscape and provided updates for the company throughout the year.
Nilda's COVID-19 Journey
Hear one woman's experience with
COVID-19, and how she decided to act
quickly following diagnosis to see if
treatment was right for her.