Real people impacted by our medicines
We use the power of science to deliver new medicines to patients in need. Many of our scientists and colleagues have committed decades to the discovery and development of a new medicine. Hearing firsthand how our work has helped others is the ultimate validator of success and provides continued motivation.
Meet Rose
As a breast cancer survivor, Rose didn't realize she could develop non-small cell lung cancer (NSCLC).
Rose, 74, is a breast cancer survivor and a previous smoker who had been neglecting mammograms because she had a mastectomy. After urging from her physician's assistant, she got a mammogram and chest X-ray, which led to a biopsy that confirmed her non-small cell lung cancer (NSCLC) diagnosis. Rose's doctor recommended treatment for her cancer, which she has been receiving since March 2021. Rose said, "I trusted [my doctor] so much. And I also asked a million questions." Rose states that she is very independent, and this journey has tested her physically and mentally, but she's grateful for the progress made.
Meet Skye
Severe eczema kept Skye uncomfortable and covered up, even on beach trips.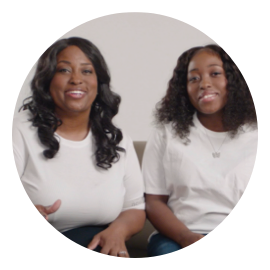 Skye, 13, has had severe eczema for as long as she can remember, having been diagnosed when she was a few months old. Despite growing up by the beach, she always wore long sleeves and pants to cover her skin. The itch was particularly unbearable. After years of trying topical therapies, her pediatric dermatologist tried a different treatment approach. Today, Skye spends less time worrying about her eczema and more time enjoying her hobbies and being open about her experience with others.
Meet Teresa
Even through a pandemic, Teresa made sure to prioritize her vision.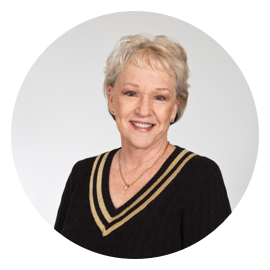 Teresa, 77, first noticed something odd about her vision when she was driving – the streetlights looked like stars and the headlights of oncoming traffic were blurred. She was scared and quickly made an appointment with her eye doctor. Her doctor diagnosed her with wet age-related macular degeneration (wet AMD) and recommended treatment. For many years, Teresa has been receiving injections, and even during the COVID-19 pandemic, she never missed an appointment to get her injection. She is excited to get back to the things she loves to do. Eye injections have become a part of her health routine. She now encourages her friends to go to the eye doctor if they notice any changes in their vision.
LETTERS FROM
OUR PATIENTS
All the late nights in the lab and at the desk are worth it when we make a difference for someone in need. We've received many powerful messages of support and gratitude from patients who have received our medicines and from their friends and family. Here are some meaningful examples.
I am truly grateful for the difficult and seemingly impossible tasks that Regeneron's team members assume on behalf of people like me… I am inspired and touched by your dedication and absolute passion for helping others and cannot thank you enough."
The work you do … has had a fantastic impact on my life and family, and for that I will be eternally grateful."
I want to take this time to thank all the scientists, the researchers, that have worked on this Regeneron treatment. I'm here... because of [their work]."
I'm hopeful for the first time in a long time about my treatment. I only wish I had asked more questions so I might have found out sooner."
Thank you, thank you, thank you, for all of your hard work and dedication in developing this wonderful drug. And if anybody would like a hug, the line forms to the right."
My grandson said, 'Coach, it looks like you got the pep back in your step.' I think it's made a big difference."
My doctor was so impressed he actually gave me a high five."
COMMITMENT TO PATIENT ADVOCACY
Part of our role as scientific innovators is increasing disease awareness and elevating the patient voice. We do this through our patient advocacy work in which we support efforts to empower patients through education and recognize patient advocacy groups' goals, issues and challenges. We aim to develop meaningful, long-term relationships with patient advocacy groups and to collaborate on addressing important health issues that result in positive patient outcomes. In fact, in 2021, we engaged with 146 global and U.S. patient advocacy and professional societies – including the American Lung Association, Elevating Cancer Equity Initiative and the Multiple Myeloma Research Foundation – across 28 different diseases.