Early Research
And Technology
Technology is embedded in everything we do to invent new medicines. By combining the deep scientific expertise of our team with our proprietary VelociSuite® technologies, we accelerate the way medicines are traditionally discovered and developed. As we look to the future, we continue to innovate our approach to antibody discovery and development while also pursuing new methods of addressing human disease, such as through our genetics medicine research.
Case Study
Reporting first-in-human data for CRISPR therapy
Regeneron and Intellia have made significant advances with genome editing in humans to permanently knock out or express genes of interest. CRISPR technology leverages an mRNA delivery system to express the enzyme Cas9 for gene editing. The removal or "knockout" of unwanted genes is the result of targeting Cas9 to a specific location. To express a gene of interest, the same CRISPR technology delivery system is used along with an adeno-associated virus (AAV) vector, which is responsible for carrying the novel therapeutic transgene that is inserted into the genome. CRISPR insertion provides advantages over the conventional gene therapy approach, which may allow treatment of pediatric populations.
We have been testing our CRISPR-based therapy in human clinical trials with Intellia, and in 2021, we reported positive interim data from the Phase 1 study of NTLA-2001 in people living with hereditary transthyretin amyloidosis with polyneuropathy (hATTRv-PN). A single dose led to an average serum reduction of disease-causing TTR protein by 87 percent, with no serious adverse events observed in the first six patients by day 28. These are the first-ever clinical data supporting safety and efficacy of in vivo CRISPR genome editing in humans and provide proof of concept for the ongoing multi-target collaboration between the companies.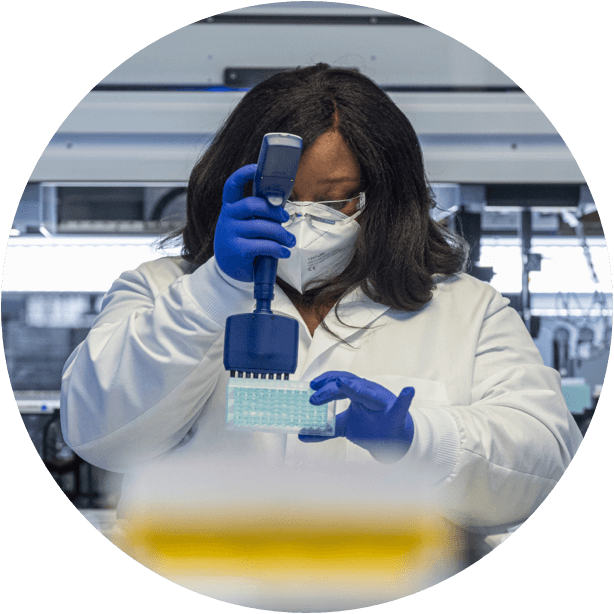 Case Study
Applying our tech to discover DNA-based vaccines
​​​​​​​​​​​​​​​​​​​​​​​​​​​​​​The Molecular Vaccine Technology Center was launched in 2021 to provide internal support to Therapeutic Focus Areas (TFAs) developing molecular vaccines for oncology, infectious disease and DC tolerogenic approaches. The Molecular Vaccine Tech Center will establish in-house plasmid DNA and mRNA vaccine platforms to deliver antigens either to dendritic cells or directly to T cells for activation. TFAs can fast-track vaccine projects by screening hundreds of vaccine candidates in combination with different DNA, mRNA and protein delivery approaches to select leads for the clinic.
In addition, at the end of 2021, Regeneron entered into a multi-year collaboration agreement with Nykode Therapeutics (formerly Vaccibody) to develop innovative vaccines against cancer and infectious diseases. Nykode has developed a plasmid DNA-launched vaccine platform that efficiently delivers antigens to help kickstart an immune response. The protein product that is launched by the plasmid DNA, the so-called "Vaccibody," contains a series of encoded antigens linked to a targeting domain that promotes delivery to dendritic cells, which initiate an immune response. The platform has already shown robust CD8 T-cell responses in animal models and in patients with cancer.
Case Study
Bispecific antibody clinical progress thanks to advancing technologies
To solve the human body's most complex mysteries, we must continually build upon our existing technologies, just like we have done with Veloci-Bi®. We developed it to overcome common issues like undesired immune response or instability in vivo associated with other bispecific creation methods, and by addressing these hurdles, we can create high quality bispecifics at fast speeds.
As our bispecific antibody pipeline matures – now with 10 in the clinic – we are encouraged by progress to address solid tumors and hematological conditions. We are confident in the overall safety and efficacy profile for odronextamab, our CD20xCD3 bispecific. We are forging ahead with REGN5458, our BCMAxCD3 bispecific, which we believe will play an active role in the treatment of multiple myeloma given its competitive profile – buoyed by data we presented at the 2021 American Society of Hematology Annual Meeting. In addition, we are observing early signs of activity for our MUC16xCD3 bispecific monotherapy for late-stage ovarian cancer, and we are investigating it in combination with Libtayo. Finally, we are excited to see progress in our METxMET bispecific antibody and PSMA-CD28 antibody clinical programs.
The Regeneron Genetics Center and
feeding the Genetics Medicines pipeline
The Regeneron Genetics Center® (RGC™) has a singular mission: genetics to therapeutics, designed for all. Our geneticists and colleagues in bioinformatics, clinical research and other disciplines complement the groundbreaking and ambitious work at Regeneron by harnessing the innovative power of genetics-based medicine to bring new, life-changing therapies to people around the world. Since its inception, RGC has created one of the world's largest and most comprehensive genomic databases with around 2 million exomes sequenced as of the end of 2021. Paired with proprietary data analytics, human ingenuity, machine learning and artificial intelligence, we can quickly and effectively analyze data to make meaningful associations between genes and diseases. For example, in 2021, RGC scientists discovered rare genetic mutations in the GPR75 gene associated with protection against obesity. Building on strengths in genetics-driven drug discovery and development, Regeneron scientists are now pursuing multiple therapeutic approaches to target GPR75, including antibodies, small molecules and gene silencing.
At RGC, we continue to tackle large-scale sequencing programs across the globe by partnering with leading human genetics researchers – now with more than 110 diverse collaborations in 23 countries. These unique collaborations have allowed us to bring genetic diversity to our research – one of the most important aspects of what we do. Ultimately, the scale and speed of our unique approach allows us to envision a future that will continue to fuel a pipeline of new medicines for the improved health of generations to come. Demonstrating the increasing importance of genetics to our pipeline and the future of patient care, we currently have three genetics medicines programs in the clinic (including collaborations with Intellia on NTLA-2001 and with Alnylam on ALN-HSD and cemdisiran) and more than 20 additional early-stage research and candidate selection programs.
Achieving genomic diversity through collaboration
Our deep history in innovative technology
Decades of investment in our core VelociSuite® technologies has enabled us to streamline the drug discovery and development process and apply it across therapeutic areas. In fact, nearly all our FDA-approved medicines were developed using these technologies. Paired with our deep expertise in a wide range of diseases, we are uniquely equipped to respond rapidly to emerging threats – just like we did with COVID-19. We are constantly seeking out new ways to advance our science with innovative technologies.
Notable preclinical research publications